Our refractive surgery center, completed in 2020, includes the most advanced technologies and cutting-edge techniques available today. Consistent with our commitment to provide residents of Poughkeepsie, Yorktown, and all surrounding areas the safest and most effective eye care services, our refractive surgery center is designed for optimal patient comfort and satisfaction.
Our latest surgical center operates in addition to our two current office locations and provides our board-certified ophthalmologists greater opportunity to meet the varied needs of each of our patients.
Please call Seeta Eye at (845) EYE-CARE to schedule a consultation today. We maintain offices in Poughkeepsie and Yorktown.
Refractive Surgery
Refractive eye surgery is designed to correct issues such as hyperopia, myopia, and astigmatism that require prescription eyewear. Following refractive eye surgery, a majority of patients are able to live a life free of glasses and contact lenses.
There are different types of refractive surgery, which allows for greater personalization. At our refractive surgery center, we utilize the latest technology and techniques as well, providing us to opportunity to completely customize each procedure.
LASIK
LASIK is the most popular refractive error correction surgery in the United States. With this procedure, a small incision is made in the cornea, allowing underlying layers to be reshaped. Reshaping the cornea allows light to better reflect on the retina, producing clear vision without the assistance of eyewear.
We use the WAVELIGHT®EX500 Excimer Laser for our LASIK procedures. This excimer laser can be completely personalized for exceptionally accurate planning and results. Not only accurate, the WAVELIGHT®EX500 Excimer Laser is the fastest currently on the market. This helps save our patients precious time without compromising quality.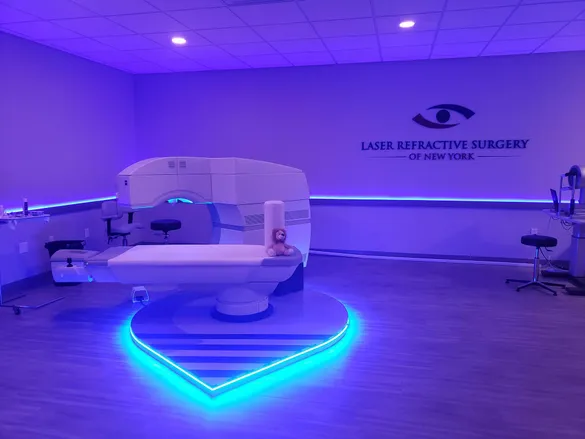 At Seeta Eye, we offer the safest and most effective LASIK techniques. These include:
Monovision LASIK. This technique adjusts the dominant and non-dominant eyes differently in order to produce optimal near and far vision
Wavefront LASIK. Also known as custom LASIK, this technique uses computer imagery to create a detailed map of the eye which allows for incredibly precise sculpting. Custom LASIK is suitable for all LASIK candidates, but may be especially beneficial for people with high order aberrations
Bladeless LASIK. We perform all laser LASIK with the IntraLase system. This method uses laser energy for the creation of the corneal flap, reducing risks of complications. Bladeless LASIK may be suitable for people who have been told they are not good candidates for the traditional LASIK technique
PRK
PRK is the original refractive eye surgery. Similar to LASIK, the cornea is gently reshaped during PRK to improve vision and reduce dependence on glasses and contact lenses. At Seeta Eye, this is accomplished with the WAVELIGHT®EX500 Excimer Laser, the most advanced excimer laser available today.
During PRK, the outer layer of the cornea (epithelium) is removed, allowing unobstructed access to the surgical area. This eliminates the risk of flap complications and may help improve results in some patients.
It takes longer to recover from PRK than from LASIK, but the results are similar. In fact, according to the American Refractive Surgery Council, 90% of patients of both procedures report vision of 20/20 within a year of surgery. However, a slightly larger number of LASIK patients achieve vision better than 20/20.
ReLEx® SMILE®
New to our refractive surgery center is ReLEx® SMILE® from ZEISS, more commonly known as SMILE (Small Incision Lenticule Extraction) laser surgery. Different than both LASIK and PRK, during SMILE laser eye surgery, a keyhole incision is made in the cornea to allow access to the inner layers of the eye. This incision is significantly smaller than the flap used for LASIK and substantially less invasive than the removal of the epithelium required for PRK, making it a very attractive option.
During the SMILE procedure, a single femtosecond laser is used to create an incision and remove a lenticule, which is a small piece of corneal tissue. Minimally invasive and incredibly effective, SMILE laser eye surgery takes only minutes to complete and offers a number of unique advantages including:
No risk of flap complications
Shorter recovery period
Reduced risk of dry eyes
Precise and predictable results
SMILE may be appropriate for people who are not good candidates for LASIK or PRK. It is suitable for candidates of both of those procedures as well.
Contact Us to Schedule an Appointment
We operate two full-service eye care centers where we offer routine vision exams, treatments for general eye conditions and diseases, and related services. Refractive error correction, lens exchange, and similar surgical procedures are now performed in our refractive surgery center, where our advanced technology, friendly and educated staff, and highly trained and board-certified eye surgeons are able to meet even the most complex needs.
If you are in need of any of our services, please call us at (845) EYE-CARE to schedule your next appointment at our Yorktown or Poughkeepsie office today.